Fully licensed Team For Cockroach Control

Schedule within 24 hours
Results Guaranteed

Free Estimate Upon Calling
Cockroaches are probably one of the most annoying pests in residential locations. Seeing them running through the kitchen and climbing up on the wall can be quite unsettling and unsanitary. They are famous for their speed of growing in numbers as well as their strong ability to adapt to any environment. In fact, one female cockroach can produce thousands of cockroaches every year, which can cause serious problems to you and your family.
Nest Selection
There are about 6 to 7 types of cockroaches in North America, two of which are commonly seen in residential houses in Toronto: German cockroach and Brown-Banded cockroach. Their presence can be identified by strong awful odors, dropping litters and dead cockroaches.
Most species of cockroaches like moist and warm environment. A  good example is a leaky pipe in the basement. Brown-Banded cockroaches are a bit different: they prefer dry areas.
Damage
Cockroaches can cause a lot of health risks to human. For example, they can cause serious allergic reactions to asthma patients, especially to children. Cockroaches also carry and transfer other bacteria that can contaminate your food in the kitchen.
PEST CONTROL METHODS – COCKROACH CONTROL IN GTA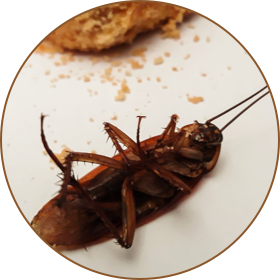 1. Cockroach Control – Extermination
You can use self-help methods such as baiting, trapping by using water jars and even getting professional pesticides. They work well when the infestation problems are still small. However, misconducting or misusing poison can affect your family.  Doing it yourself is less effective when compared to hiring a professional exterminator, and it could take several extra treatments until all cockroaches are fully removed from your home.
Our licensed technicians will start with assessing the type of cockroaches and identifying their living spaces in your house. They will then customize an extermination solution to effectively get cockroaches out of your property.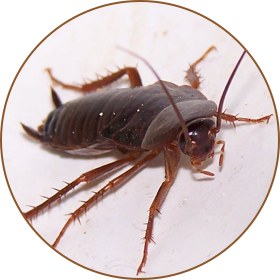 2. Cockroach Control – Prevention
Along with the extermination service, our technicians will also provide you a few handy tips that help you and your family keep cockroaches away in the future. In general, useful tips for all homeowners to prevent cockroaches' visit include:
Keeping your kitchen clean: Store food in containers and empty trash regularly.
Moisture prevention: Fix leaking pipes and faucets.
Putting naphthalene in corners to repel cockroaches.
CLEAR, REPAIR AND PREVENTION
Cockroaches feces can be sporadic, and they can cause strong unpleasant odors. Our one-stop shop cockroaches control service includes cleaning services that make your home a cozy place to live in again.
Call Us To Get a Quote For Cockroach Control in GTA and Surrounding.